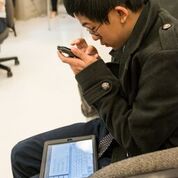 We read a recent news article in the Salt Lake Tribune highlighting "just how difficult it can be for disabled parents, students and others to access school websites and curriculum available to their peers," in part because American schools still are awaiting specific guidance from the Department of Justice to take effect six years since DOJ announced its intentions to issue regulations on website and computer access for disabled people.
You can read more about the delay in issuing accessibility guidance on the AFB Blog.
You can also learn more about your child's educational rights on FamilyConnect, including how to plan for IEP meetings, what kind of assessments might be helpful, and what kinds of accommodations and modifications you and your child's TVI may want to request.
The AFB Directory of Services can help you find schools and local agencies that provide assistive technology training, and you may also want to explore the AFB product database to get a better sense of what tools and devices are available these days.
Technology is everywhere in today's society, and it can be a powerful tool for children who are blind or visually impaired. But being an effective advocate for your child is still an important part of the process.