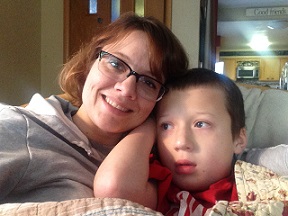 As I've shared before, we were given a grim perspective of Eddie's future when he received the diagnosis of optic nerve hypoplasia. We were abruptly told he was blind, "severely handicapped," and then being asked, "Do you know what that means?" As a young mother in a small doctor's office, the answer was obviously "No." I didn't know what that meant for him as a baby, or what it would mean for his future.
When he entered preschool, while trying to navigate the special education system, I struggled with what his blindness "meant." Did it mean he would be in school with the neighborhood kids, or would he be somewhere else? Did it mean that we should just see how things go and leave the defining up to the experts? I didn't know. I didn't know when to push, when to back off, and when to put faith in the system.
Admitting ignorance at times, I left the recommendations up to the experts but asked many questions. I didn't want numbers on assessments meant for sighted children to define my child who was blind. I made sure that the conversations we had around education were focused on what we knew Eddie could do and not on lower expectations. Now, we have a better understanding about what his blindness "means." He's only 11, and his future is open to interpretation, but we know what blindness means for us.
It means he needs us to keep our minds and hearts open to recognize his achievements and continue to build on them.
It means that he isn't going to learn how to be a part of his school and community without our help and encouragement.
It means that if we don't expect much of him…then he won't do much. Our expectations directly relate to his success. Because of that, we expect a lot.
It means educating the rest of the world, so they expect a lot too.
It means having patience with people that don't understand and trying to educate them anyway.
It also means sleepless nights, shed tears, and unspoken anxiety because no matter how hard we try, some people will never see Eddie like we do.
After a recent night with little sleep, I woke up with Eddie standing by our bed. I rolled over at 4:30 a.m. and noticed my son had dressed himself for the day, which he'd never done. He said, "Hi, Mom. Hi, Dad." Then, he said, "Help, please" and handed me his iPad to turn on some music. He said, "Norah Jones, OK!" and as I turned it on and handed it back, he walked happily to his room and shut his door.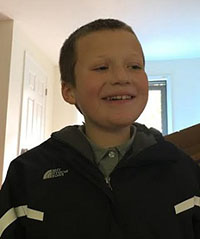 I remembered every goal he's had surrounding initiating conversation, asking for help, making choices, and getting dressed. I remembered wondering when he was younger how many goals he would meet and how many we'd have to let slip away. I laid in bed thinking about how far he has come, and how hard it can be at times to get him there.
Defining Eddie and blindness is not always up to us. He redefines himself almost every day, and we have to let him. Our job is to make sure the world is open to Eddie… and that others define him the way he deserves to be perceived.
Help Your Child Define Who They Are
The Future Starts Now: Discovering the Possibilities for Your Multiply Disabled Child
Teaching Your Child About Self-Advocacy
Independent Living Skills for Your Child with Multiple Disabilities