Editor's Note: Today's blog post is from guest blogger Bill McCann. Bill is the founder and president of Dancing Dots Braille Music Technology and director of a summer music academy for young musicians who are blind or visually impaired.
Summer Music Academy for Youth with Visual Impairments
By Bill McCann
Once again this August, I will be heading out to Northern California to lead our fourth annual Summer Music Academy session at the Enchanted Hills Camp near Napa. The session will run for 10 days: a week at Enchanted Hills Camp in the mountains above Napa, California, followed by three days of cultural events, presentations, and our closing performance at the headquarters of the San Francisco Lighthouse, sponsor of the Summer Music Academy.
I'm looking forward to spending 10 days with a group of young, visually impaired musicians who have a passion for playing, composing, arranging, and recording music. What a great experience it has been for me during these summer sessions to introduce motivated young musicians to reading music in braille or magnified print. It's gratifying to see how, during our music academy session, they begin to make the connection between improved literacy and technology skills that naturally lead to new opportunities for creative self-expression, educational advancement, and possibly even a career path in music.
Although our camp is not at all a traditional performing arts camp, the participants tend to be natural performers. We do take a break each day for a swim, but this camp is definitely not primarily a recreational experience. Each day is filled with time to learn to read music, learn techniques of audio production, and jam with other campers and staff. This year, we plan three shows: Napa, August 11, EHC on August 12, and at the San Francisco Lighthouse on August 15 at 5:30 p.m. In addition to solo and small group performances, our EHC Summer Music Academy chorus will sing while reading braille or large print scores.
I am also looking forward to jumping back into the pool up there, breathing in the cool morning air of Mount Veeder, sitting under one of those enchanted redwood trees, and enjoying some of the most peaceful sleep of the year. And, when we get to the city, we will be spending an entire day at a local recording studio getting some hands-on experience on both sides of the control room glass. The city portion of the session is open only to campers who are age 18 and older.
If you are a visually impaired musician between the age of 16 and 24 who is serious about improving your music literacy skills and making music with like-minded musicians, I encourage you to apply for the few remaining spots.
But first, I invite you to enjoy listening and watching some excerpts from our 2016 closing performance.
Excerpts from 2016 Performance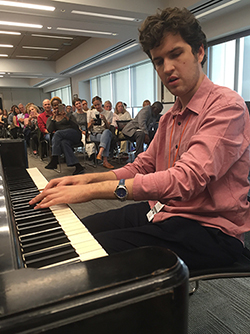 Our chorus performs my own composition, a silly song about a blind guy's dream of his first solo ride in his Google Car, a self-driving car. Our soloist that night was a stand-in and, although she missed a few of the lyrics, we still got a few laughs.
EHC chorus and band perform The Glorious Dream: Ballad of the Google Car.
Daniel Gillen plays Liszt's Liebesträume (Dream of Love).
A trio of advanced students perform a song called Flor by Fernando Apan.
Luz Madrigal sings Gershwin's Someone to Watch Over Me accompanied by Sky Taylor.
Classical: Fernando Apan plays Two Motions in One Movement.
For further information and to apply, visit our website.
Related Resources
Profile of Richard Donald Smith, Instrumental Music Teacher Who Is Blind