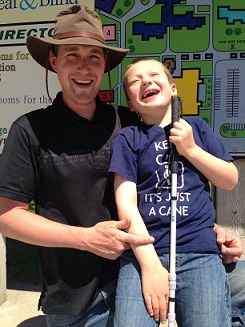 Oh, dads! Do you know how treasured you are? I hope you do, but something tells me you are in the dark. I think about my entire childhood in hopes of capturing my fondest memory, and do you know what it is? None other than my dad reading to me before bedtime. He read the Chronicles of Narnia series and the Mandie collection for sure, but the rest are forgotten. It wasn't the books I valued, but the time with my dad that encapsulated all that was right in the world.
Whether through wacky outdoor games (like the shaving cream slide leading to the baby pool as described by David Hyche in A Father's Perspective: Keeping a Blind Child Active and Interested), bedtime reading, homework help, stroller runs, talking over dinner, or through activities the entire family can enjoy (as described by James Coleman in Making Plans for Father's Day), quality time with you leaves a lasting impression.
It shows your children they're worth it.
And they are.
You know what else about you leaves a lasting impression? The love you give your entire family; the boundaries you instill; the encouragement you give; the role model you are; the support you offer; and the advocacy you fight for. Take a more detailed look: In Honor of Father's Day, A Son's Thoughts About Parenthood and Blindness.
You are tremendously important. Your time and love extended leave you adored.
*Moms and others, utilize our meaningful Father's Day gift ideas from a child who is blind.