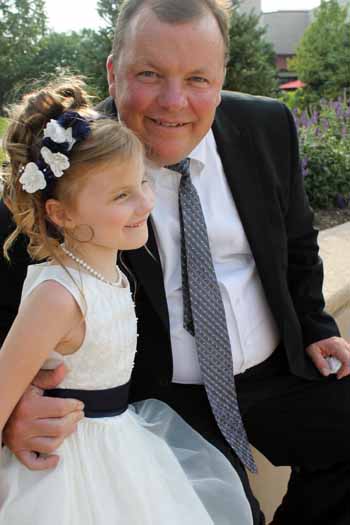 The best way to start this blog about Mary Rose and her dad, Dave, is by starting it on a positive note, the way Dave starts every morning with our precious 10-year-old daughter…
Dave, "Mary Rose who's got your back?!"
Mary Rose, "You got my back, Daddy!"
Dave, "Who's got my back?!"
Mary Rose, "I got your back, Daddy!"
Dave, "Who's got our backs?!"
Dave and Mary Rose, "We got our backs!"
Dave and Mary Rose, "GO BUSHLANDS! Hooyah!!"

I can't even tell you how it warms my heart to hear this uplifting cheer to greet our day!
I have often thought about how blessed our family is to have Mary Rose in our lives. She gives us a reason to slow down, stop, and smell the roses! Mary Rose was born completely blind; she received a diagnosis of Lebers Congenital Amaurosis by the time she was 4 months old.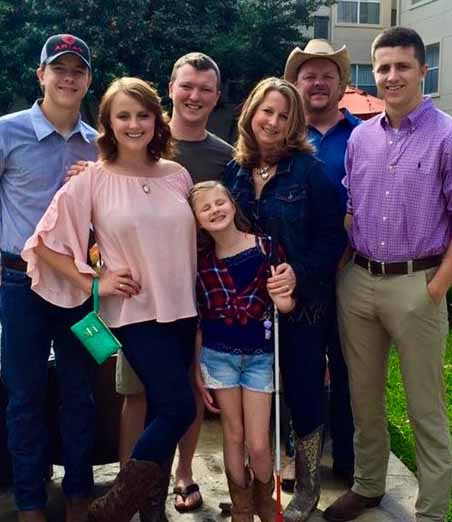 Having 4 older children with no health issues we were very much in shock to find out that our baby girl had a genetic mutation that caused her to be blind. The ups and downs between grieving and hoping throughout these ten years since Mary Rose's birth have seemed never-ending! Within days of her diagnosis Mary Rose's gene mutation was discovered, which led to high hopes from researchers for gene replacement therapy, which is currently restoring sight for the blind. Many prayers for a miracle for Mary Rose have been said and continue to be said by BOTH Dave and myself.
With that hope deep within our hearts, we plan for Mary Rose's future as a person that is blind. We are very much aware of the capabilities of the blind to have both independence and academic success. We will always encourage and strive for academic achievements for Mary Rose, however, they will be based on challenging her from where she is currently.
Recently, every IEP/ARD meeting we attend seems to be a reality check of where we perceive/hope our daughter to be and where others assess her level to be. Her future seems more and more uncertain. This leaves us on a roller coaster, grieving losses year after year, but being held together and appreciating the high moments of support received from family, friends, and professionals who work with Mary Rose.
We know Mary Rose has a bright future; progress is the light. The up and down journey of a special needs child, unfortunately, has no end. It seems as though we should get used to it, as life itself, for all, has its ups and downs. Each struggle, however, only gets harder. The ONLY one besides myself who personally feels the BLESSINGS and knows the heartaches of OUR special girl is her Daddy!
Prior to our children, God first blessed me with the love of my life, my husband. Dave, with an abundance of faith, hope, and love guides our family through this life! It is because of our love for each other that our fifth child was born, Mary Rose, who God has graced with an ability to touch lives beyond our families! Through Mary Rose we now have a connection to an extended family in the world of visual impairments.
Over the past 10 years Dave has poured his heart into helping the visually impaired! He has organized and run many fundraisers for FFR (Foundation for Retinal Research), AR NAPVI (AR National Association for Parents of children with Visual Impairments), MNAPVI (MN Chapter of NAPVI) and USABA (United States Association of Blind Athletes).
With Dave's initiative we founded an AR NAPVI Chapter and MNAPVI Chapter to reach out to and assist other parents of children with visual impairments. Currently, he is the President of USABA and works with them to provide opportunities for the blind and visually impaired to participate in sports and physical activity. Through USABA Dave and our children, have brought beep baseball and beep kickball to children with visual impairments in Texas. Dave brings such joy to Mary Rose, our family and others through his devotion to the above organizations for the visually impaired. He has shown our children that in giving you receive in abundance.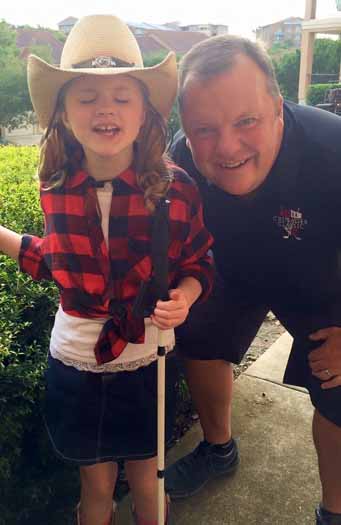 I thank you Dave this Fathers Day for all your dedication to our daughter and her friends with visual impairments, for always being positive, and especially for having our backs! Go Bushlands! Hooyah!! We love you!