I am excited to introduce you to another of the Lighthouse Guild's telesupport program. This blog post is for those who are involved in the albinism community.
By Sheila Adamo L.C.S.W., C.A.D.C.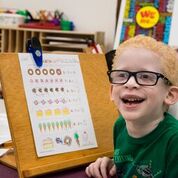 As a tenured mother of a child with albinism, I am still amazed at the range of emotions that I experience on a regular basis. My feelings still range from such intense pride and happiness to sadness and fear on any given day. Assisting me in managing these emotions throughout my life as a parent has been my involvement in the low vision community, along with the National Organization of Albinism and Hypopigmentation (NOAH) since my son was born 18 years ago with albinism. I recently returned from the 16th National NOAH conference and I am once again struck by the genuineness and compassion of the low vision community. My role in this community has changed over the years from an attendee seeking every bit of information I could possible absorb, to now a presenter sharing the information and perspective that I have gained throughout the years of parenting a child with albinism. However, what I have found that as a parent your work is never done. You continue to learn and grow. The challenges change, but the responsibility to handle your own emotions and fears and continue learning when it comes to your children remain the same.
Dealing with the emotions of raising a child with albinism can be difficult and at times overwhelming. One thing that helps me is sharing my struggles and successes with others in a way that hopefully eases the journey for parents in similar situations. During the mother's workshop that I created at the NOAH conference I was once again given the pleasure of connecting with other mothers in such a real, honest and open manner that I found myself so thankful to have been put on this journey 18 years ago by the birth of my son. The journey of raising a child with albinism may not be easy, but it will open your heart and eyes to a world of wonderful people and create a deep compassion inside of you.
In addition to presenting at NOAH conferences and managing the NOAH program that assists newly diagnosed families, I am lucky to facilitate the bi-monthly teleconference calls for The Lighthouse Guild International to assist the parents of children with albinism. These calls are a mix of guest speakers that are specialists in dealing with albinism and more informal calls that create a safe space to discuss specific issues and feelings that may arise during the journey of parenthood. There is strength in sharing your story and learning from others, as well as, helping others with your knowledge as a parent. In the next few months, my goal is to bring the conference experience to the teleconference group. I will be arranging guest speakers that were very well received at the conferences, as well as providing an opportunity for sharing and learning from each other. Being part of a community will provide you with information, support, and insight that will help you become the best parent that you can be. I hope to talk with you soon.
For more information or to join, please contact me @ sheila.adamo@gmail.com. You may also call toll free 800-562-6265.