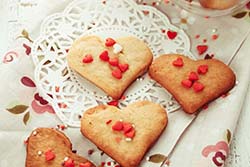 Editor's note: Valentine's Day is just around the corner and so are the classroom parties at your child's school. To help include your child who is blind or visually impaired, Samantha Kelly shares her tips and advice on creating an accessible school celebration.
Classroom Parties for Children with Visual Impairments
When your child is in elementary school, there is typically a room parent who is busy organizing classroom parties months in advance. Recently, I received a note from each of my children's room parents asking for a donation, wondering if I could help at the party, and I was provided with the room parent's email. It made me stop and think; this is not the teacher, and she does not know my child's needs related to his visual impairment.
Typically, I send my money and show up at the party. Oftentimes, I have been disappointed when my son could not access an activity. This party could be different—I thought to myself. After stepping out of my own comfort zone, I was able to assist in my child's participation in the day of celebration. Here is the advice I would share from my experience:
First and most importantly, your child will likely have fun even without the extra effort.

Remember this person is a volunteer and is giving of their time.

Contact the room parent and share a little about your child and his or her needs.

Provide ideas for accommodations for the activities.

Use Pinterest for suggested ideas that are inclusive.

Show up at the party ready to help.

If things are not accessible, try to make the best of the activity for your child. Perhaps you can ask a peer to be your child's buddy for the activity.

Thank the "room parent" for the help and offer to help for the next classroom party.
Oftentimes these extra labors of love as a parent of a child with a disability do not seem important, but I know I feel better seeing my child included in the festivities.
Additional Resources
Happy Valentine's Day: Activities for Your Child or Teen Who Is Blind or Visually Impaired
Accessible Valentines for Your Child or Adult Who Is Blind or Just Loves Braille!
Braille Valentines and Bribery
Making Holidays Meaningful for Your Child Who Is Blind or Visually Impaired