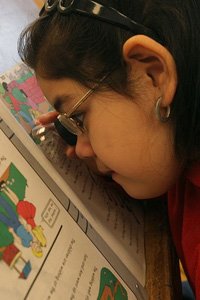 February is Low Vision Awareness Month and we would like to take advantage of that to highlight some of the information we have on the FamilyConnect site that explains just what low vision means. The term low vision has come to describe individuals who have some useful vision that can assist in seeing things like large print and pictures.
The scope of who would be considered "low vision" is very broad and can mean many things to different people. It may range from moderate visual impairment to near-total blindness. Low vision cannot be fully corrected by eyeglasses, contact lenses, or surgery. However, a person with low vision may benefit from any of a variety of available optical devices, such as electronic magnifying glasses or eyeglass-mounted telescopes. The content included in How Students with Low Vision Read and Write gives a good overview and is a great place to start learning about low vision devices.
FamilyConnect's directory of services can connect you to local agencies that provide low vision services, evaluations, and support.
For older children with low vision, the question of whether or not they will eventually be able to drive may weigh heavily on their minds. The article Is Low Vision Driving an Option? addresses some of the questions and preparations involved in becoming a low vision driver.
The assistive technology that can help in using low vision is changing rapidly as technology brings us new tools, software, and ideas. The iPad-type devices alone are now being used to magnify on the fly and are helping to reduce the reluctance of students to use assistive devices.
Please explore FamilyConnect's low vision resources, share your favorite links and ideas in the comments, and help us to celebrate Low Vision Month!