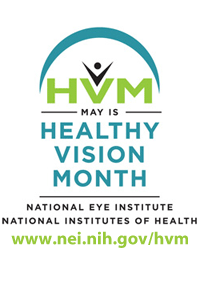 Millions of people living in the U.S. have undetected vision problems and eye diseases. To bring attention to the importance of early detection and treatment, the National Association of Parents of Children with Visual Impairments is working with the National Eye Institute, part of the National Institutes of Health, to celebrate Healthy Vision Month. Held each May, Healthy Vision Month encourages all Americans to get a dilated eye exam—one of the easiest and most important things you can do to protect your vision.
For more than 20 years, NAPVI and the National Eye Institute (NEI), part of the National Institutes of Health, have been working together through NEI's National Eye Health Education Program (NEHEP) to promote critical eye health messages, including low vision. NEHEP also contributed a list of Common Questions Asked by Parents to FamilyConnect. Now, NAPVI and NEI look forward to broadening their partnership by collaborating on additional eye health efforts.
NEI established Healthy Vision Month with the goal of making all Americans aware of something the NAPVI community already knows: the importance of overall eye health and early detection and treatment.
Check out the Healthy Vision Month website for ideas and tools to help your family, friends, and community understand the importance of taking care of their eyes. Find Facebook posts and tweets, e-cards, a Healthy Eyes Quiz widget, posters, handouts, and more.
NAPVI and NEI are also working together to promote NEI's free resources for children, including:
High-quality print activity books and fun fact calendars that feature eye-related fun facts, safety tips, word puzzles, and more to help children learn about parts of the eye and how they work. There are books on healthy vision and eye diseases, as well as eye safety. View the materials through NEI's catalog to order hardcopy materials.
Interactive website for children ages 6–9 that makes information about eyes, vision, and eye safety fun through activities such as optical illusions, games and quizzes. The site includes a character that speaks to children as they visit different sections of the website, and it is accessible to people with disabilities.
Please join us this May and throughout the year to help make eye health a priority across the nation.