Editor's note: Today's blog post is about the American Printing House for the Blind's "Braille Tales Book Program" for children who are blind or visually impaired. This free program offers participating families six free print/braille books per year up to the child's sixth birthday. Visually impaired mother, Holly Bonner, shares her story of using "Braille Tales" with her two daughters. This blog was originally posted on Holly's website, Blind Motherhood.
American Printing House for the Blind's Free Braille Tales
By Holly Bonner
With multiple studies indicating the tremendous benefits early reading has on childhood development, have you ever wondered, "How does a blind or visually impaired parent read to their child?" Depending on the parent's current state of vision, there are many alternative methods for cultivating your child's love of reading as a visually impaired parent. Some moms and dads implore memorization techniques, choosing books that have rhyming or lyrical storylines they can easily remember. Other parents prefer utilizing audio components with story time by purchasing smartphone apps or subscription services like Audible. Large print books are also effective if the parent has some remaining vision or can work with a handheld magnifier or CCTV. Finally, new technology like the OrCam MyEye enables users to read newspapers, signs, menus, supermarket product labels, and even text on a computer or smartphone screen. As someone who uses OrCam, the device also helps me read children's books to my own two daughters. But what about braille books that are both hard to find and sometimes quite costly? Enter Braille Tales!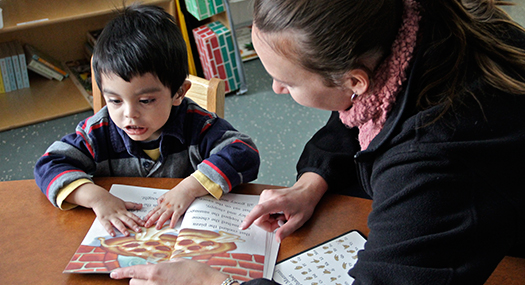 Free Books from Braille Tales
Headquartered at the American Printing House for the Blind (APH) in Louisville, Kentucky, Braille Tales is a free print/braille book program promoting early literacy skills and excitement for reading among preschoolers who are blind or visually impaired. Around 10 to 15 percent of families enrolled in the program have a parent who is a visually impaired braille reader. Braille Tales presents an opportunity for these parents to read popular, engaging age-appropriate books to their children. Families enrolled in Braille Tales receive six print/braille books each year until their child is six years old. Braille Tales delivers books to all 50 states and currently serves over 1,300 families. Recent Braille Tales titles include "The Gruffalo" by Julia Donaldson, "Maple" by Lori Nichols, and several books in the "Llama Llama" series by Anna Dewdney.
History of Braille Tales Program
Braille Tales began in 2011 when APH established a partnership with Dolly Parton's Imagination Library—an international initiative that has given over 100 million books to build home libraries for children across the country. The partnership allowed APH to purchase Penguin Publishing books at Dolly Parton's Imagination Library's low bulk rate. Once these books are purchased, they are shipped to Kentucky Correctional Industries (KCI), and that's where things really get interesting!
Role of Kentucky Correctional Industries
Inmates enrolled in the prison's braille program transcribe the text from each book into braille, adhering clear braille labels onto each page. The books are then packaged and shipped to families all over the country. The prison braille program not only enables inmates to develop high-demand job skills while contributing to the blind community, it also provides a solution to a growing shortage of qualified braille transcribers. According to APH, Mary and Vicki, two KCI inmates who have worked with Braille Tales since its inception, say that Braille Tales reminds them that they can do good work for society even from prison. Braille Tales relies on their expertise to make the program run smoothly.
How to Sign Up for the Program
To be eligible for the program and receive six free print/braille books per year until your child's sixth birthday:
You or your child must meet the definition of blindness.
Your child must be age five or under.
Both you and your child must reside in the U.S. or its outlying areas (American Samoa, Commonwealth of Northern Mariana Islands, Guam, Puerto Rico, U.S. Virgin Islands).
Applications for print/braille books will be accepted on a first come/first served basis. All others will be placed on the program's waiting list.
Here are important tips to know when applying:
You must be the parent or legal guardian of the child.
To ensure proper delivery of books, make certain to put your mailing address and email address on the application form. You can also download the form in English or in Spanish. Your information will not be shared outside APH.
To stop receiving books, change your address or personal information, or if you know of someone who would benefit from this service, please have them contact Hannah Ozmun at hozmun@aph.org or 502-899-2387.
Visit the APH Braille Tales Print/Braille Book Program for more information.
Braille Resources for Visually Impaired Children
Blind Motherhood and Braille Tales
How Students Who Are Blind Read and Write
Braille Instruction, Too Often Neglected in Children with Low Vision