We recently discussed the importance of braille on AFB FamilyConnect. Many parents of older children and teens with vision loss, as well as many adults with vision loss, spoke out in agreement that braille is of utmost importance when print-reading is a struggle.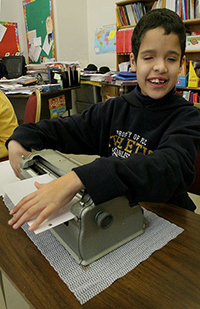 So, with this information, why is braille instruction often neglected in children with low vision? Too often the IEP team dismisses braille instruction because of the intense time requirement; if every student who would benefit from braille was taught braille, we would need more Teachers of Students with Visual Impairments (TVIs).
Sounds like it's time to recruit TVIs.
But as long as parents and TVIs don't speak up and advocate for braille instruction for each individual child, nothing need change.
Parents and TVIs, arm yourself with knowledge to advocate for braille instruction.
Cite Melody Musgrove, former director of the Office of Special Education Programs, U.S. Department of Education, when she said, "Braille is a very effective reading and writing medium for many blind and visually impaired persons, and research has shown that knowledge of braille provides numerous tangible and intangible benefits. Therefore, it is imperative that IEP teams for blind and visually impaired students provide for instruction in braille and the use of braille for those students, unless, based on a thorough and rigorous evaluation, the IEP team determines that instruction in braille or the use of braille is not appropriate for a particular student." [An excerpt of Ms. Musgrove's letter to colleagues; emphasis mine]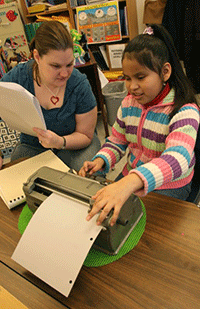 Ms. Musgrove was clarifying the the law; children with low vision must receive braille instruction, unless assessments prove it isn't an appropriate literacy medium.
Ms. Fairchild Shares Her Experience Struggling with Print
Ms. Neva Fairchild was born with low vision and was taught to read with increased print size and magnification. A lack of braille, which she describes as a lack of literacy, hindered her academic and career success. She couldn't read her hand-written notes, she read much more slowly than her peers, and her reading comprehension suffered.
Refusing to be inhibited, Ms. Fairchild determined to learn braille as an adult using online Hadley courses, which are created for adults and teenagers with vision loss.
Now a braille reader, Ms. Fairchild is in the perfect position to state the value of braille for those with low vision. She writes, "Braille is one of my top three employment skills, along with orientation and mobility and keyboarding by touch. I find it impossible to prioritize them any further than this because without one the others don't really stand alone."
Read Ms. Fairchild's story; she describes her seasons as a low vision student, going to college with a visual impairment, working with vision loss, learning braille, and life with braille fluency.
Thank you to Ms. Musgroves and AFB's Ms. Fairchild. You have illuminated the pathway; we will continue to advocate for braille for those with low vision.
More on Braille
Should My Child with Low Vision Receive Vision-Related Services?
Is Braille Relevant in the 21st Century Workplace?
Braille, the Magic Wand of the Blind