Editorial note: Check out David's tips on hosting a beeping Easter Egg event for children who are blind or visually impaired, from a few years ago.
---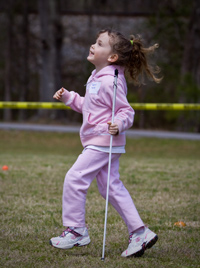 I can't believe it has been ten years since we held our first beeping Easter egg hunt for my daughter Rachel. I combined a beeping egg hunt with my church's traditional Easter egg hunt that first year. My daughter was about a year and a half old and I wanted to find a way for her to enjoy hunting Easter eggs like her sighted older brother Will. At eighteen months, Rachel was already telling us "I do it by self" when we tried to offer her too much assistance with anything. In many instances, too much assistance equaled any assistance at all.
Rachel developed retinopathy of prematurity after being born premature and weighing less than two pounds. My wife Kim and I were frantically trying to figure out what it meant to raise a blind child by contacting other parents through NAPVI, talking to doctors, and reading everything we could find on the internet. The Alabama Institute for the Deaf and Blind's (AIDB) Birmingham Regional Center provided us with an excellent early intervention worker which was a great help but to be honest, much of what we learned came directly from Rachel.
I figured out early on not to decide for her what she could and could not do and not to decide what she would like based on my conceptions of what a blind child would like. I remember being depressed when she was a baby, thinking that she would never experience classic movies like The Wizard of Oz. I also was sad thinking that she wouldn't enjoy the childhood experiences of riding a bike or skating. She quickly taught me that my expectations were all wrong even though they were based on interpretations of blindness I had seen on TV and in the movies. Rachel loves watching movies, she rides bikes and goes roller skating regularly. She has probably seen The Wizard of Oz five times and enjoys movies much more than my sighted son.
Getting back to that first Easter egg hunt, I remember learning some hard lessons. After finding out about beeping the eggs on the internet, I came up with my own design and made a batch. I spoke with my church's children's minister and we decided to invite families affiliated with the Alabama Association for Parents of Visually Impaired children (AAPVI) and we invited families through the AIDB Regional Center. We had three visually impaired kids, including my daughter show up after inviting dozens. We conducted the beeping hunt at the same time as the traditional hunt and chaos ensued. Sighted toddlers grabbed beeping eggs, VI kids and sighted kids stepped on and destroyed several of my fragile, $13.00 eggs and my Rachel crawled off in the woods alone. Hard lessons learned. Everyone had a good time, however, and partnerships for future events were born.
A few years later I was showing slides of photos of our events at the break during a conference I was speaking at. I work as an Agent for the Bureau of Alcohol, Tobacco, Firearms and Explosives and I am an explosive specialist. I was giving a presentation for a training conference for the International Association of Bomb Technicians and Investigators (IABTI) a professional organization I belong to. One of the members took it upon himself to approach IABTI's board of directors and suggest that constructing beeping Easter eggs be adopted as a charitable endeavor for IABTI. The board agreed and funds were allotted for the purchase of components and IABTI members around the country have stepped up and constructed the eggs. The police agencies including my own, allow their employees to participate in this and many law enforcement and military members donate their own time and money to support these events around the country. We now seem to add 2-3 locations each year to the list of agencies both for the blind and law enforcement who join together to make these events happen. This year we will have four events in Alabama alone. None of the law enforcement officers or military members who help out have ever asked for recognition or reimbursement. With all that has recently been said negatively about members of my profession I think it is important to point out just one of the many selfless acts that are performed by law enforcement officers every day. This might not be newsworthy but it is truthful.
My daughter, now eleven, states that she is far too mature to participate in these events so now she serves as a pre-teen, helper. Rachel has claimed pre-teen status since she was nine. The friendships we have made through these events along with our affiliation with NAPVI and AAPVI have been invaluable for my family. I encourage all of the parents reading this to find organizations in your area and participate with your kids. If your area doesn't have an organization, start one yourself. I have been to early AAPVI meetings where only my family and a couple of VI teachers showed up. Now we can have up to 150 people at one of our events. Someone has to take the initiative to start a parent group if you do not have one. My motivation here was to help my daughter and my family. While trying to get answers and help Rachel, I have been able to meet and help others in need. I think God knows what he is doing when he puts something in our path.
Happy Easter!!
David Hyche