Teacher of Students with Visual Impairments, Debra Reames, shares, with permission, her student's words affirming his father:
My name is Adam Prousalis and, like many others, I have Oculocutaneous Albinism. While I have struggled with this visual impairment at times, one figure in my life has helped me overcome it, this, of course, being my father. With love, and a seemingly endless amount of patience, my father has helped me overcome my visual impairment in whatever way he could; he was willing to go above and beyond to make sure that I received proper equipment and accommodations not just in school, but in everyday use. He has taught me that though I was born with a visual impairment, I am not incapable, and I can still pursue and follow whatever path I choose and to never let what I was born with stop me. He's taught me the importance of self-reliance and independence, while at the same time teaching me to advocate for myself when needed. He has been the most influential figure in my life, and I am forever in debt to him for all he has done for me.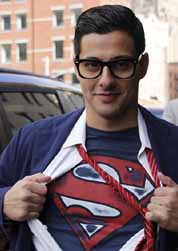 As Adam expressed, a father's role is enormously influential. This week we gave a toast, or rather a charge, to dads of children with visual impairments. Today, we say thank you.
Thank you, Fathers! Happy Father's Day from your FamilyConnect family!