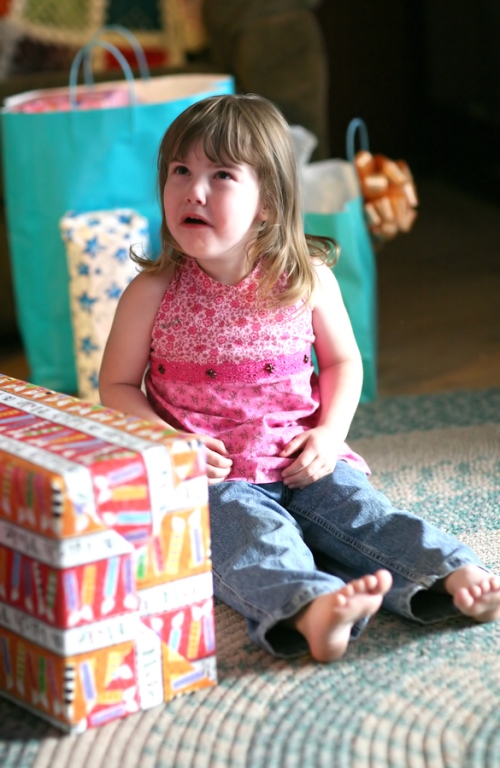 A math equation we parents of sensitive children know well:
A sensitive child + A new environment + A Loud crowd of voices + A Late-night party + A possible itchy Christmas dress or slacks = A recipe for many (not at all merry) meltdowns.
I saw it today; bless his heart. The boy in the back of my child's school "frenzy" (it's an assembly, but "frenzy" is certainly more accurate) preferred calm, while the majority of children sung holiday songs and screamed with delight. He held his hands over his ears and rocked, wanting a little more peace and a little less party.
If you have a child who prefers calm, prefers routine, and prefers less general stimulation, a child like my own Madeline and like the boy at the back of the frenzy, I have a few resources and suggestions to help you prepare for the bustle of the holiday season complete with travel, parties, and new routines.
Begin by considering how your child has responded to hectic-to-him situations in the past. What has been your child's "problem" behavior and what has he or she communicated through the behavior?
Respecting your child's communicated preferences, think through what is negotiable. For children who are sensitive to clothing materials, can you plan accordingly with cheery, soft fabric instead of itchy tulle or wool? I know my Madeline isn't alone in her intense texture sensitivity. For children who are texture sensitive with food, can you plan to bring particular food choices to a party, perhaps enough to share? For children who are sensitive to noise, can you help your child find a quiet area he can retreat to when necessary?
For the non-negotiables, such as attending a party, hosting relatives, or flying on a crowded airplane, prepare your child as best as possible by following the tips in Taking Your Child Who is Blind Someplace New. Suggestions include explaining the situation, rehearsing the evening, and arriving early. Additionally, help your child anticipate the occasions byhttp://www.familyconnect.org/info/multidiscapacidad/communication/using-a-schedule-with-your-child/235 adding the events to a calendar or schedule.
For children who are blind or visually impaired, decrease your child's stress by helping him orient (familiarize himself) to the party space or event environment ahead of time.
Help your child think about conversation topics he can have with family or friends, and help him rehearse games he can play with other children at the gathering.
Give your child plenty of opportunities to make decisions regarding the event or trip and during the event or trip.
Encourage your child to let you know when he needs a break from a stressful environment. Take him on a short walk or sit next to him while he enjoys a few minutes of calm.
Two more things: First, read Friendship Circle's fantastic 13 Holiday Survival Tips For Your Child with Special Needs and second, add your "survival" suggestions to the comment section below.