What if, this summer, you invite your child with a visual impairment (and any siblings) on an adventure of a lifetime. A type of summer "vacation" from the norm, one we'll call a summer "escape." This adventure will not require leaving the house and is ideal even when cash and time are strapped. It will, however, require pre-planning, creativity, and most of all, your enthusiasm.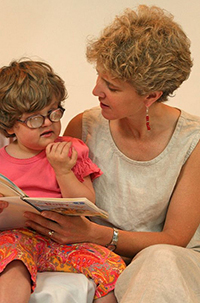 This summer adventure is an escape into a book. I dare you to take it quite seriously!
Plan your adventure, thinking first of your invitation and time together. Your child will enjoy this "escape" when you are most engaged. Put aside distractions and decide to learn, play, and read together; consider surprising your child with an invitation to join you on a "journey to _____" (the setting of your book) and give thought to the reading location. Perhaps you could set up a tent in the backyard, create a fort in the living room, lay a quilt on the lawn or bedroom floor, or even construct a cardboard box "spaceship" if you're venturing into space. Whatever you choose, make sure it's out of the ordinary in order to spark the imagination!
Plan an age-appropriate book. When considering a book, you may want to read though Reading and Making Tactile Books with Your Child, as this adventure is a type of "story bag" or "story box" you will make for your child. The youngest of children may prefer a simple book about the ocean, farm, amusement park, playground, or ice cream parlor. Older children may prefer a chapter book taking place in a foreign country, outer space, or a different part of our country.
Plan your multi-sensory artifacts and activities. If you're "heading to the beach," you'll need sand, salt water, ocean sounds, a beach ball, a picnic lunch, and perhaps a few beach games. If you're "heading to the amusement park," you'll need creative rides (laundry basket races, anyone?), funnel cake, and sounds of shrieking children. If you're "heading to a foreign country" with your child, you'll need cultural food (consider inviting your child to help you cook) and music, recordings of the native language or accent, and perhaps, miniatures of landmarks.
What I love about this project is four-fold. First, the quality time spent between a family member and child is bonding. Second, it fosters a love of books and reading. Third, it's ripe for learning opportunities—particularly if new ideas are paired with familiar concepts. Fourth, it's enjoyable to emerge the senses as you invite your child to use his or her imagination.
Make it a fun one-time experience or make it a weekly occurrence. Most importantly, enjoy your time together and get lost in the book.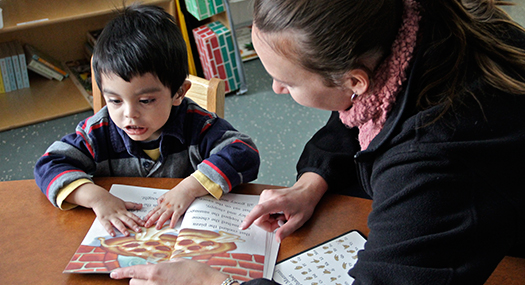 Fun Activities for Your Child Who Is Visually Impaired
Fun Activities for Teaching Magnifier Use
Orientation and Mobility Activities for Your Baby or Toddler With a Visual Impairment
Family-Time Activities When You Have a Visually Impaired Toddler or Preschooler
Family Activities When You Have a Teenager with a Visual Impairment