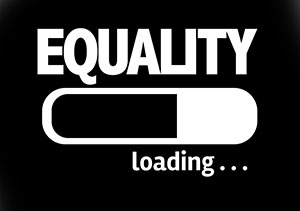 Twenty-six years ago President George H.W. Bush signed into law the Americans with Disabilities Act (ADA). The ADA is one of civil protection to Americans with health issues, military combat injuries, and disabilities alike.
ADA prohibits discrimination and ensures equal opportunity for said persons in employment, state and local government services, public accommodations, telecommunication, commercial facilities, and transportation.
Now your child should not encounter barriers to enjoying community playgrounds, museums, and sport facilities.
Now your child should have equal opportunity to utilize public transportation, public businesses, and websites.
Now your child should have equal access to prepare for, apply for, undertake, and rise in his selected employment field.
This is definitely reason to celebrate.
But former president and CEO of the American Foundation for the Blind, Carl Augusto, said it well when he wrote,
Struggles to achieve equality are never completely won…
[T]he vast majority of working-age people who are visually impaired are still missing from the workforce. Without work, they cannot be independent. Without independence, social equality remains an abstraction — a goal forever out of reach — and our employers are deprived of our talents, skills, and valuable insights.
We can do better.
For starters, employers and human resources directors need more and better information about how employees with vision loss do their jobs… Many fear the financial cost and perceived inconvenience of accommodating visually impaired workers.
You can read more of Augusto's words here.
As you can see, we have not reached our destination in the journey to true accessibility.
If there was in fact a map leading to equality and full accessibility for persons with disabilities, stops along the way would include:
Society must learn one's vision does not define one's capability.

School personnel and employers must understand accommodations enable individuals with visual impairments to independently (and hopefully interdependently) undertake obligations and ambitions. Furthermore, the majority of accommodations are free or inexpensive.

No turning our backs on blatant noncompliance of the ADA. ADA complaints must be made to the Department of Justice to ensure current and future compliance.
So I leave you with not only reason to celebrate, but also with the call to increase awareness of the capability of those with visual impairments and the hope that you will insist on compliance.
You see, ADA has been here for 26 years, and though we've made great headway the work is not complete; let's pick up the torch and run.
More About ADA
Americans with Disabilities Act: Why We're Thankful and Where There's Room for Improvement