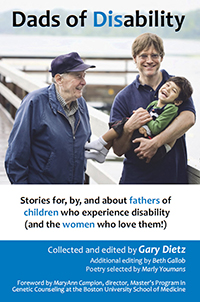 It is not often that we see a book written by fathers of special needs children about their experiences. Dads of Disability: Stories for, by, and about fathers of children who experience disability (and the women who love them) focuses on fatherhood themes, and was compiled and edited by Gary Dietz, the father of a special needs child.
Dietz crafted this book to be shared with both men and women. It consists of 41 essays and poems written by fathers (and some mothers and even children, as well) from a variety of backgrounds. The essays cover a wide range of disabilities, and we are happy to share with you an excerpt written by the father of a child with cortical visual impairment: "Man I Can Be," by Chas Waitt.
You can learn more about the book and project at www.dadsofdisability.com.
As we look at the message boards on FamilyConnect, we so often see moms talking to and supporting each other. I encourage more dads to join in the conversation; we look forward to hearing your insights. We have loved receiving guest blog posts from dads like James, Mike, and David, and would love to hear from even more of you.
Happy Father's Day! How are you planning to celebrate?