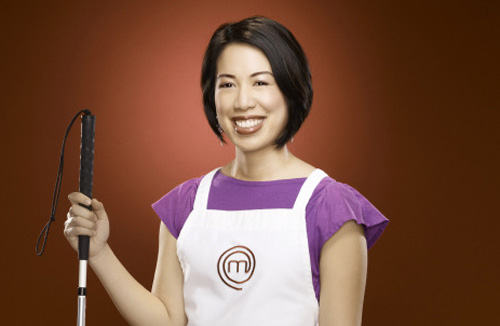 There's no question that Christina Ha is a remarkable, history-making woman, the only blind contestant ever and the season three winner of "MasterChef." For Women's History Month, we asked her to share her story as inspiration for parents and their children who are visually impaired. The key takeaway? Anything is possible if you're determined.
FamilyConnect: When did you first discover your passion for cooking?
Christine Ha: I was in college and I missed the meals of my childhood. My parents were Vietnamese immigrants but my mother didn't leave behind any recipes when she passed away. So I bought some cookbooks and taught myself how to cook. The joy in cooking sparked when I was able to cook something good and my friends enjoyed it.
FC: When did you begin losing your vision?
Christine: About the same time I started cooking, I was diagnosed with neuromyelitis optica. As I lost more and more of my sight I had to learn to adapt in the kitchen. I started by making peanut butter and jelly sandwiches and trying not to get peanut butter all over the counter.
FC: How did you end up appearing on "MasterChef," the competitive cooking show judged by Gordon Ramsay – which led to the publication of your New York Times bestseller, Recipes from My Home Kitchen?
Christine: My friends were the ones who encouraged me to audition. The braised pork belly I made in the finale is still one of my favorites.
FC: What happened after you won "MasterChef" and published your cookbook?
Christine: I've opened two restaurants in Houston: The Blind Goat, a Vietnamese gastropub, and Xin Chào, a more upscale restaurant, where I serve a version of that braised pork belly. The restaurants are all modern Vietnamese, with influences from Texas, America, and all over the world.
FC: What's next for you?
Christine: I'll be making appearances on "Top Chef" season 19, which taped in Houston last year and debuts March 3. I'll also be building a brand-new restaurant for The Blind Goat so it can be its own brick-and-mortar space with a full bar and outdoor seating.
FC: For the parents of kids who are blind or visually impaired, how would you urge them to support their children's' goals and dreams? Like most people who are visually impaired, you were probably told at one time, "A chef can't be blind." How did you overcome that?
Christine: I tend to be the person that does the opposite when someone tells me I can't do something. That made me a pretty rebellious child, but as I grew older, I often sought to prove to others, and myself, that I can do something, especially if there are naysayers. My advice is to nurture your children's hopes and dreams and desires and help them find ways to achieve such things. Connect them to resources. Guide them. But ultimately, it is up to them as an individual to be willful and achieve. 
FC: March is also National Nutrition Month. As someone whose career revolves around food, what are your thoughts on nutritious eating?
Christine: I try to eat more vegetables, but I also firmly believe in the saying, "Everything in moderation." We shouldn't always deprive ourselves of things we love. If you want to eat that cookie, eat it. Just don't eat a dozen in one sitting. I also try to eat things that are in season, locally sourced, and organic or non-GMO. Of course, I am not obsessed with it, so I just try to eat carefully but I won't beat myself up about it if I happen to eat some fast food one day.
FC: You mentioned that you still love your braised pork belly recipe. What are a few other favorites, especially when you're not working?
Christine: I love braising meats and stews. The pressure cooker at home is a clutch for stews and braises. I often make things like oxtail stew or chicken soup with it. 
To learn more about Christine Ha – including some recipes – visit her website, The Blind Cook.